VOLCANOES and CONDORS
2 days : ascent of Iliniza Norte (5126 m)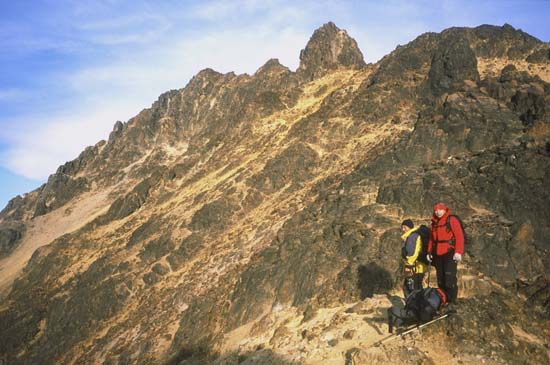 Iliniza is described as being "an excellent acclimatization summit" - but then every single summit in Ecuador is qualified as being an acclimatization summit (if the final objective is to climb Cotopaxi and/or Chimborazo, the two highest mountains).
Iliniza has two summits : Norte and Sur. Iliniza Sur is rather difficult (as a matter of fact, Whymper did not succeed in ascending it). The summits are separated by a pass, below which a little hut is built. Iliniza Norte is not difficult, except for the altitude. One must still be careful, under the summit, as there may be some icy patches.
| | | |
| --- | --- | --- |
| The hut has a dozen beds, but the summit is quite popular, and the hut is often full. | | Inside, gas stoves and cooking utensils are available, but one must cook the meals. |
We were lucky : not only was the hut almost empty, but the wheather was great !
| | |
| --- | --- |
| | The color of the rocks does not leave any doubt concerning the volcanic origin of the mountain... |
From the summit of Iliniza Norte, one can see that the South summit is icy - and more difficult.

Chimborazo is quite visible in the distance.
During his ascents, Whymper measured about everything, but here is an observation he did not make : the burning time of pipe tobacco...

So, I had to correct that omission, since, as Boussingault said (in 1831) : "I highly blame the dangerous expeditions to the mountains, when they are not undertaken in the interest of science"

Is this lake full of water... or what ?