Fall in Chile

The Lonely Planet guidebook says that this trek is "one of the best treks between Santiago and Temuco"...
We have not (not yet) compared, but I doubt that a wider view could be seen from anywhere else...
It is also said that UFO's sometimes land here... Well...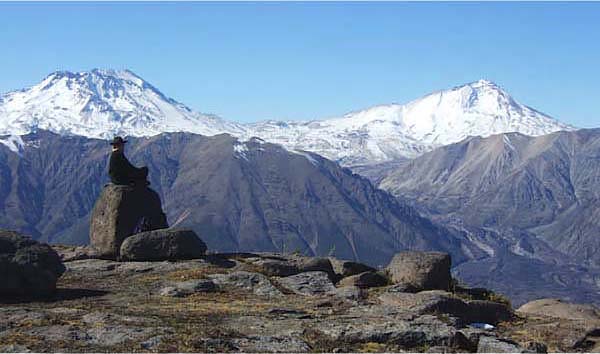 From the summit (about 2150 m), we see two volcanoes : the Descabezado Grande (3953 m) and the Descabezado Chico (right. 3508 m).
The ascent of these summits is not very technical (but tiring, because of the ashes).
But it takes a couple of days to reach Base Camp.

A superb walk in the sky will then take you to the Laguna El Alto
Juan is our guide - on horseback, of course: no Chilian would ever consider walking !

And a second horse to carry our gear: we love it!
A condor comes to see who is intruding.

Our trek is part of a longer circuit whose name is "the Condor Circuit "
There is already some snow on the way to the Laguna: May is Fall on the other side of the Equator !

During the night, it gets a bit cool under the tent, even though the altitude is not very high (approx. 2050 m).
This does not prevent Juan from sleeping in the open, his head on his sadle (yes, like all cowboys do !)