VOLCANOES and CONDORS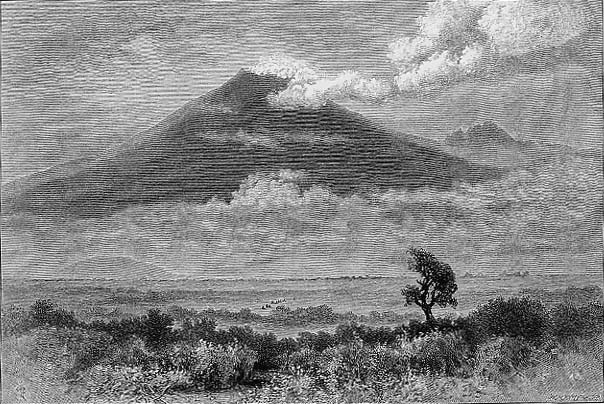 "Cotopaxi is an ideal volcano. It comports itself, volcanically speaking, in a regular and well-behaved manner ".
I did not say that, Edward Whymper did (remember him ? he is the one who almost came down a bit too fast from the Matterhorn, on July 14, 1865...).
At the end of 1879, Whymper came to Ecuador, under the pretense of studying the reaction of men to high altitude, and he took the excuse to make the first ascents of Chimborazo (6310 m), Cotocachi (4939 m), Corazon, Carihuairazo (5028 m), Cayambe (5789 m) and Sara Urcu (4676 m). His guides (Jean-Antoine Carrel - the one from the Matterhorn - and his cousin Louis) also made the first ascent of Iliniza Sur, but Whymper missed twice, and had to satisfy himself with Iliniza Norte.
Whymper liked climbing mountains ....
Incidentally, they also climbed Cotopaxi (5897 m), which was then considered the highest volcano in the world, and they even camped on the summit (just to see if man can acclimatize to altitude. The answer is yes).
| | | |
| --- | --- | --- |
| Only on rare occasions is Cotopaxi free of clouds... | | And hailstorms are quite frequent ... |
This "little" storm (a depth of 3 cm of hail on the ground...) ended the life of my reflex camera... No more zoom lenses and filters...
I'll have to do without... One good point : the weight of the backpack decreased significantly...
We then started on the tracks of Whymper. As he did, we were accompanied by guides, mules and "arrieros".
But no : actually, as we have less ambition than Whymper, we have only three mates : Pinta (the gentle mare), Israel (the enamoured guide) and Oswaldo (the devoted arriero).
And food for three days (and what food !).
The paths (what paths ?) are not easy to find.
The "pàramo" (= high plateau), at an altitude of around 4000 m, is scored by deep "quebradas" (= gorges) with steep flanks, gouged by ice liquefied by volcanic eruptions ("lahars"), or maybe volcanic subsidences ?.
By the way, if anybody is interested : the mountain is the distance, above right, is Quilindaña, (altitude 4878 m). Only one ascent route has been opened (following the ridge on the right). Every other attempt to open new routes has failed. But it must be said that the mountain is seldom visible, as it is most often behind clouds, that it takes at least two days just to reach its foot, and that the rock is quite rotten... But it could still be a worthwhile objective for anybody who seeks a quiet and lonely mountain...
Breakfast is an essential meal, people say... Scrambled eggs, yoghourt, cereals - not forgetting orange juice and coffee. Will that be OK ?

And it is served on table cloth, of course.

As for the background... it's for you to decide...


And what about dinner by the campfire ? We loved it...
During the three-day trek, we walked around Cotopaxi, North to South, through the East pàramo, in areas which are seldom visited, and where we met only some cattle. Before starting for the trek, we had a 36-hours acclimatization period at an altitude of 4000 m : one must be careful about mountain sickness... particularly when there is no possibility of sanitary evacuation...