FROM THE QUEBRADAS TO THE SALARS...
(Trip through North West Argentina - June 17/ July 20 2010)
(see here our 2001 trip)
July 25 to 27, 2010 : Quebrada de las Flechas and Angastaco

The road (an excellent dirt road) from Cafayate to Cachi goes through the quebrada de Las Flechas
The artist has sculpted many drafts of arrow points : maybe he copied on the men who have been living in these valleys for a long time ?
| | |
| --- | --- |
| | The rock is a pale ochre, to which the setting sun loans a pink carnation. |
<! Fin galerie PS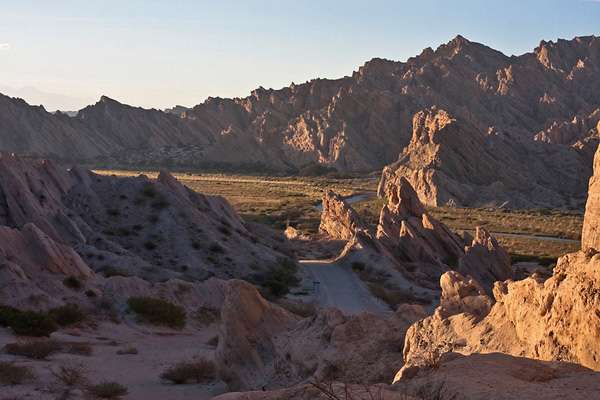 From Angastaco, do not miss the Cerro Colorado (very visible from the village. 3 hours round trip)

<! Début galerie PS
At the end of the path, in a dantean place (red as hell ?), a stone oratory : this is a pilgrimage.

We called him Mirthi : this little dog (3 legged !) followed us all the way from the village.

Fortunately, we had some water for him...
<! Fin galerie PS