WIND ABOUT THE TOWERS
(Trek in the Torres del Paine National Park - Chilean Patagonia - January 2001)
| | | |
| --- | --- | --- |
| | Page 6 | |
We then go to the Laguna Verde. We take the bus again (still free, if you travel by the same company from which you bought the ticket in Puerto Natales) to the Administration Center, 3rd and last bus stop. One should then register with the Park Guards, as the trail to the Laguna Verde is not much frequented. The bus driver offered to drop us by the head of the trail, which saved us from walking 2 or 3 km on the dirt road. He will also pick us up at the same spot on our way back from the Laguna Verde, 2 days hence.
After walking some 30 or 40 minutes, we reach a point where the slope is a bit steep, and the rucksacks are still quite heavy... (when we first started, we were each carrying about 20 kg - 40 lbs).

Oh, by the way : yes, it's windy...

But the view is superb, the clouds in the background being those that feed the Grey glacier. We have seen clouds in that area almost permanently, one of the reasons why we did not go...

Approximately 4 hours to walk to the Laguna Verde, through (windy) meadows and primitive forests, where the trees are let to die standing.

For most of the time, we can see the Cuernos del Paine, framed between moving clouds and a foreground of meadows and dead trees.

When we reach the Laguna, no other tent. No campground either... We inquire at the Hosteria (the smell of the cooking food ! We have been eating freeze dried food for a week now...).

We pitch our tent by the " refugio ". It is only a very basic hut, but a closeby wooden " cage ", provided with a conveniently shaped board, is obviously designed to satisfy some basic requirements. There is no door : enjoying the view while acting is a real luxury.

Water is available from a spring, 10 minutes back on the access trail. On the first night, we are alone, but we find a solitary host in the hut, on the second : the area is visibly not very popular - and it's a shame.

On the next day, we stroll around and we enjoy the sun (the weather is better as you get a bit farther from the mountains). Pictures of flowers and guanacos...

(and Dominique even washed her hair - in the stream.).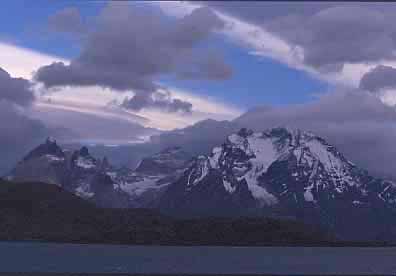 On the 18, we go back to the Administration Center, not without looking back at the Cuernos.
Bus until Puerto Natales. Bus until Rio Turbio (45 mn - $ 4). Border crossing, still with no problem.
Rio Turbio is an old mining town (coal mines), a little (a lot !) in need of repairs...
Again, night bus to from Rio Turbio to Rio Gallegos (5 h 30 - $ 20). And flight back to Buenos Aires.